Murals
2023 Starts with the End of the Stairwell Murals at Hibbard Elementary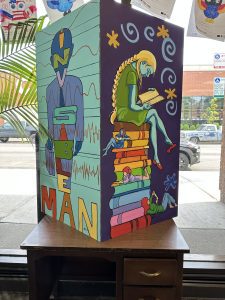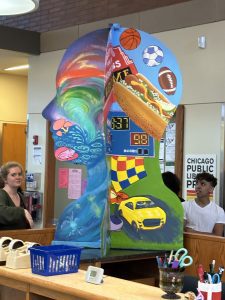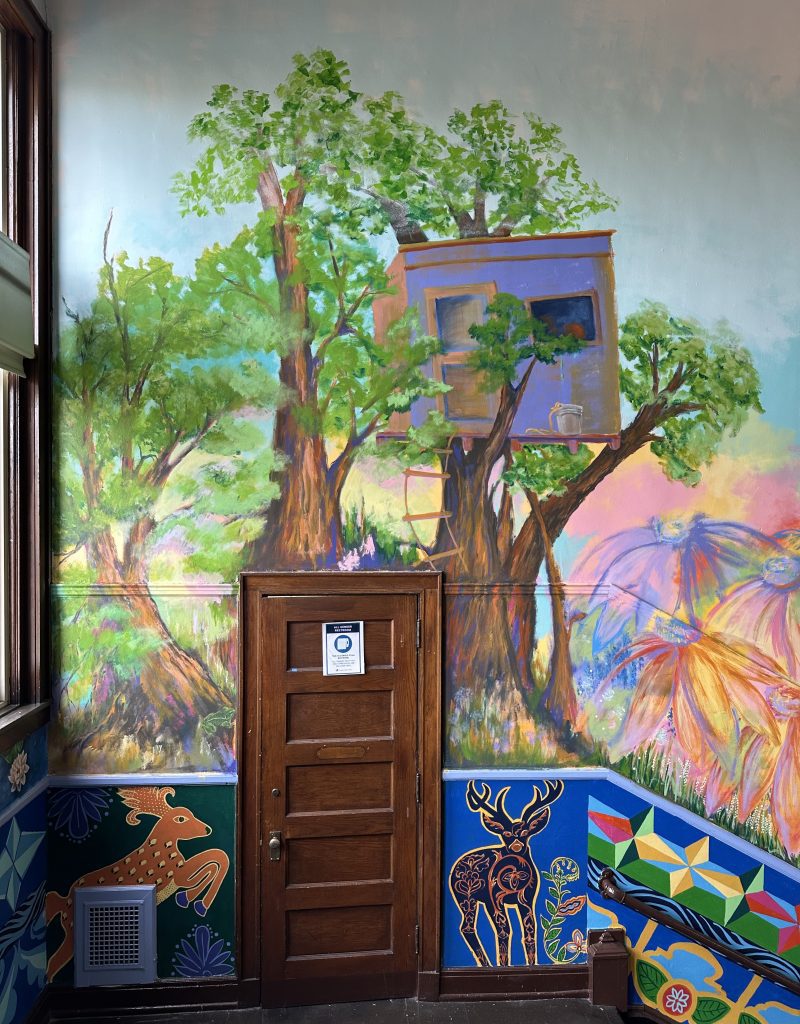 Murals – Summer/Fall 2022
2022 late summer and fall included 5 murals: a stairwell mural, "The Immigrants" for Hibbard Elementary summer program; a small 10′ mural of the NYSE for an office conference room, a 100′ underpass mural, "…And the Bees" for the Old Irving Park area, a 20'x40′ "Stay Tuned" mural for CANTv's new building and a 10'x100′ group mural which I organized and painted in part, "Music You Can See" funded by the Six Corners Association. As I write this I am also working on the 4th of 4 stairwell murals for Hibbard Elementary with the students in an after-school program.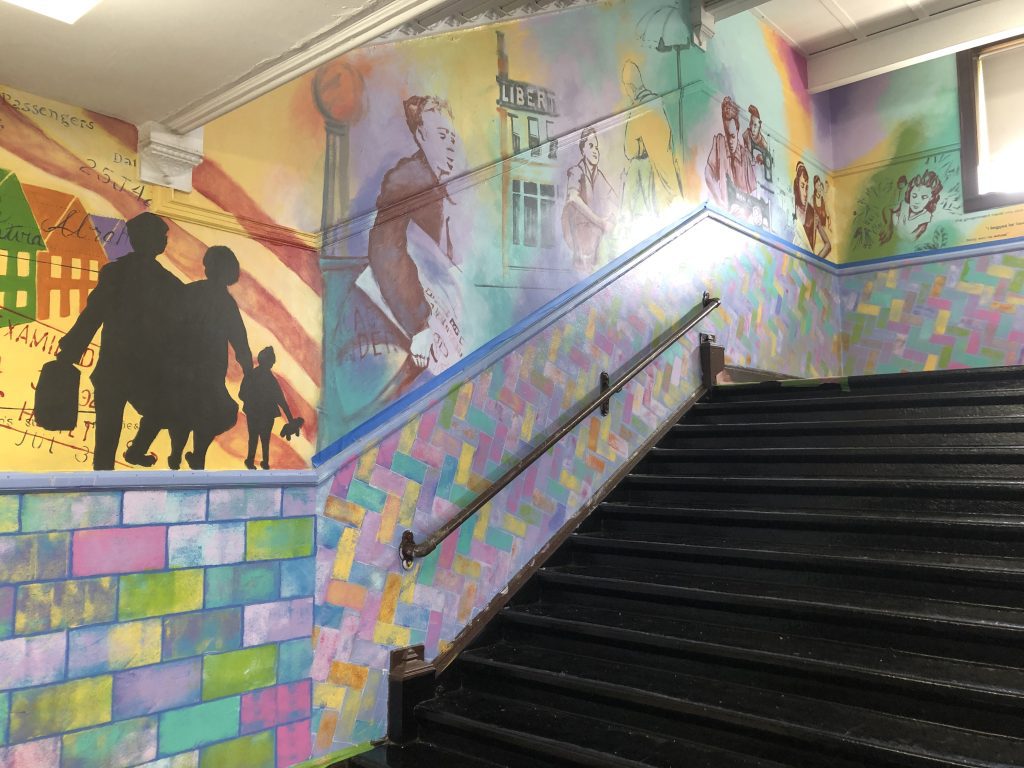 2022 Murals
Working indoors for the winter months of early 2022 has meant a beautiful floral mural for the new bar, The Albion Manor, two bathroom murals for their parlor, a three-story stairwell mural @Hibbard Elementary School in Albany Park, , a postal area and a community room mural for the new 5150.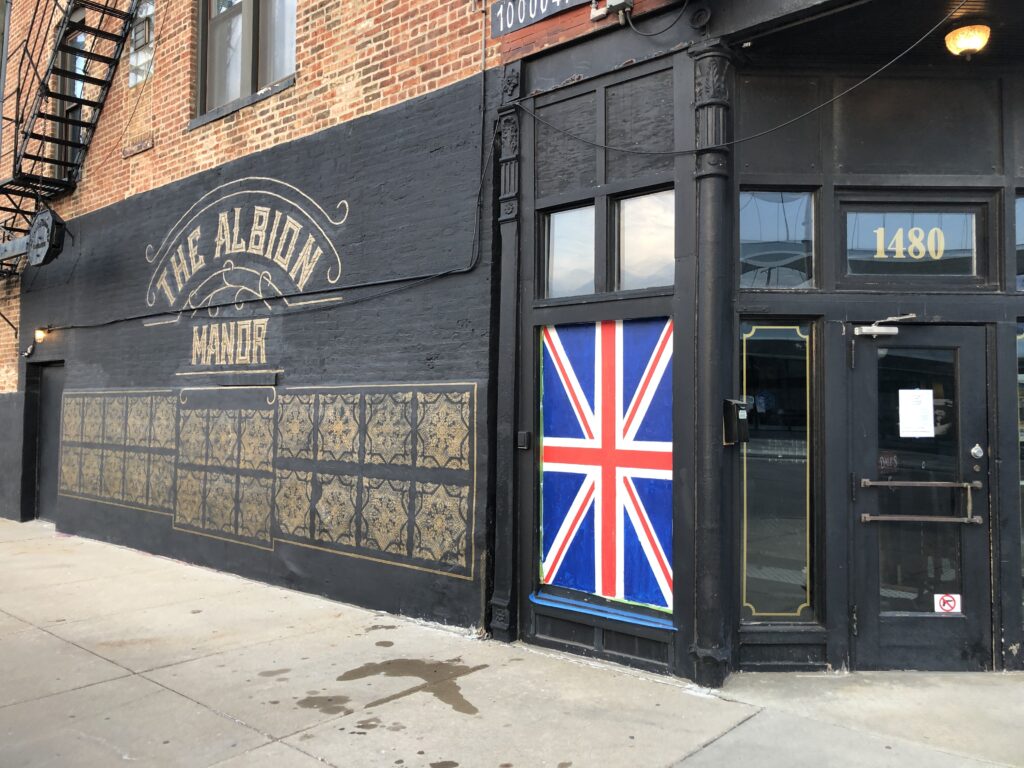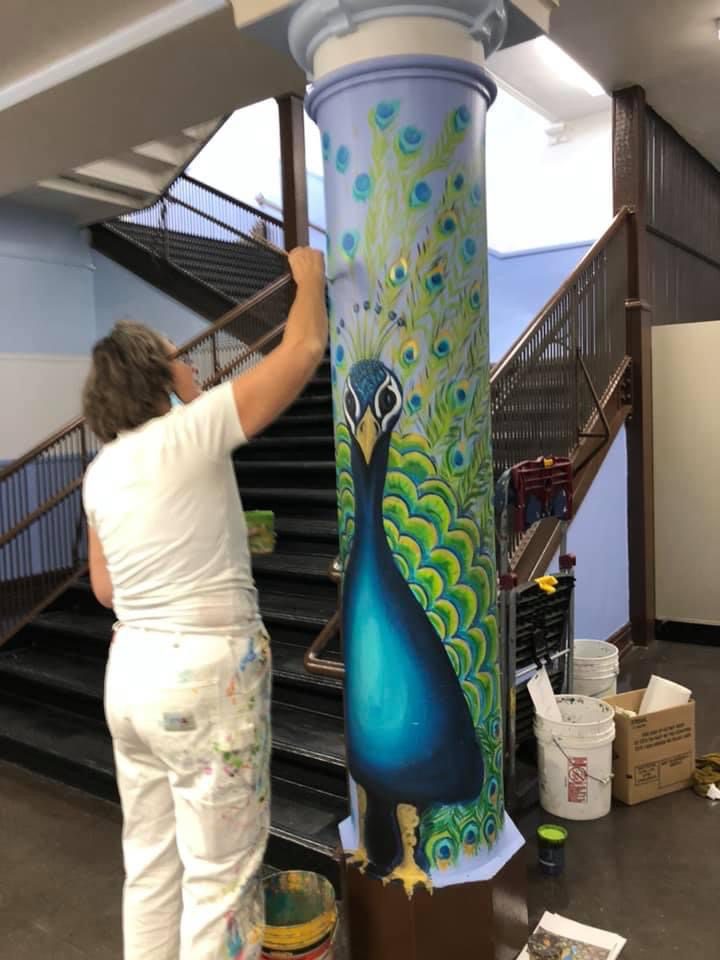 2021 MURALS
2021 started with a bright and humorous announcement of LAKE EFFECT BREWING's planned move to the former firehouse in Jefferson Park. Then it was going "underground" to the riverfront to add a photo op vista to a grey boat slip space. Rounding out the year was an after school program with 5th and 6th graders @Hibbard Elementary in Albany Park – another stairwell mural)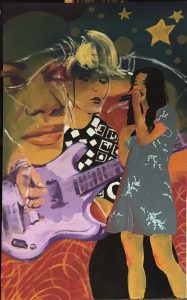 Late Summer 2021 FINALLY meant approval to paint the new Irving Park Gateway Mural @Kolmar designed by Jill Arena and painted by me with a few student volunteers and the always wonderful Jerry !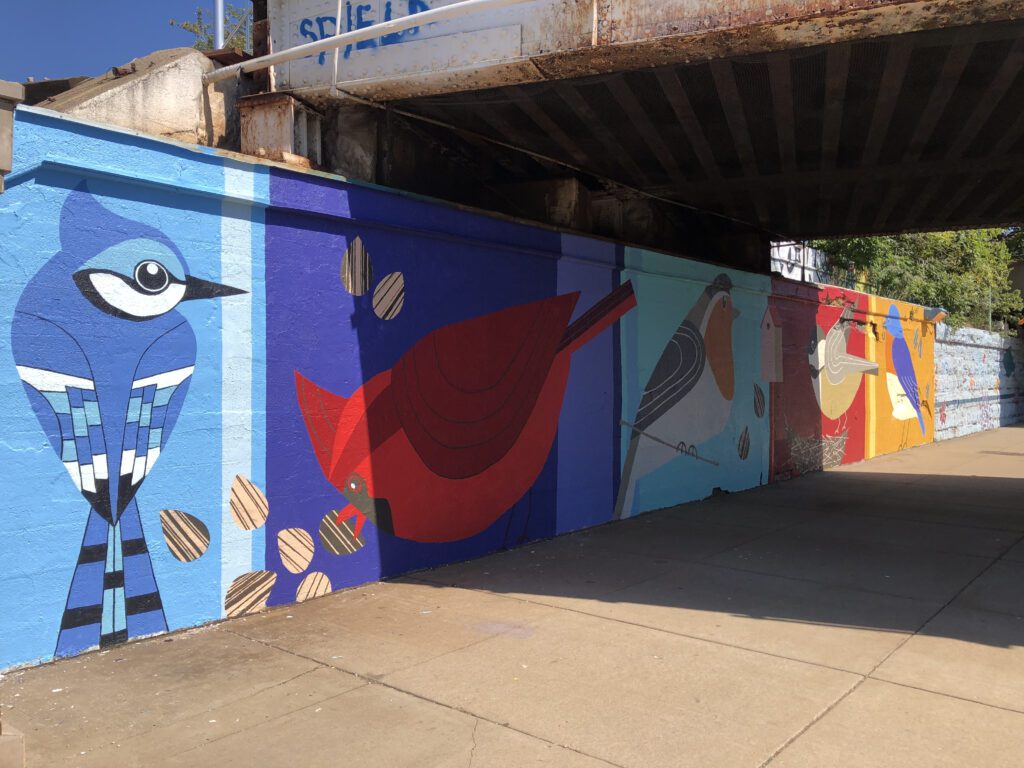 2020 MURALS
Dandy Crown Reopens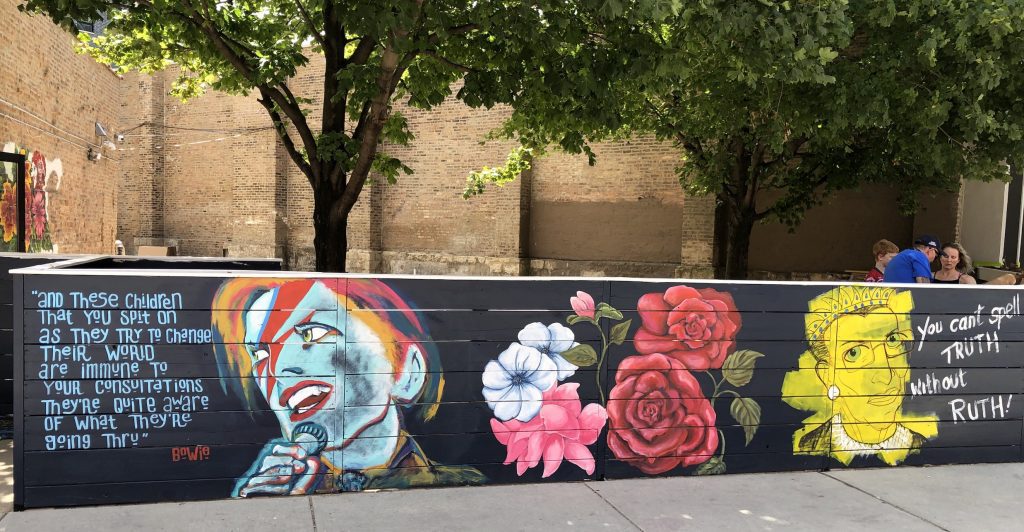 Gale Street Inn Reopens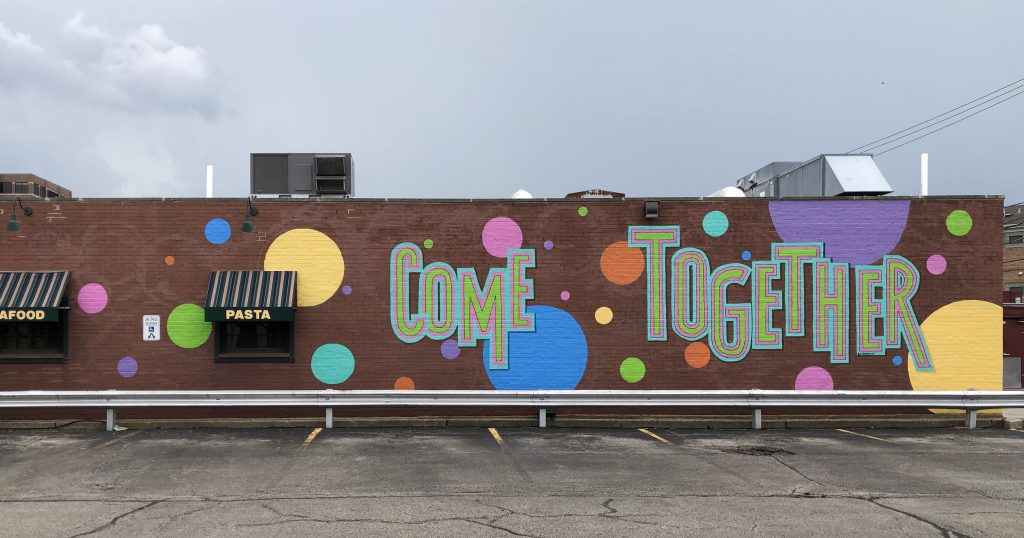 Covid Comics @ Six Corners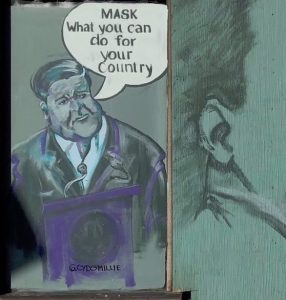 2019 Murals
"Out of the Fire" mural for Village of Niles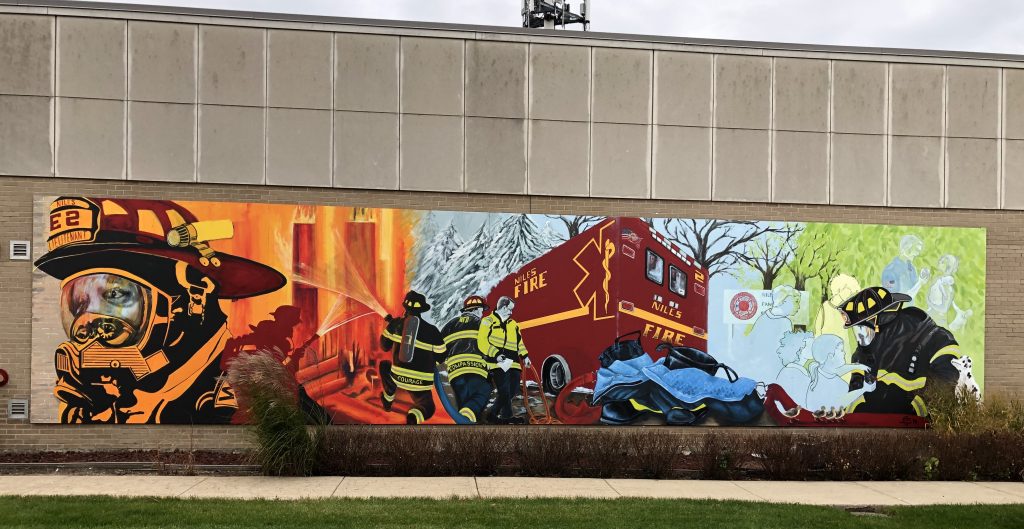 Chicago Stairwell – South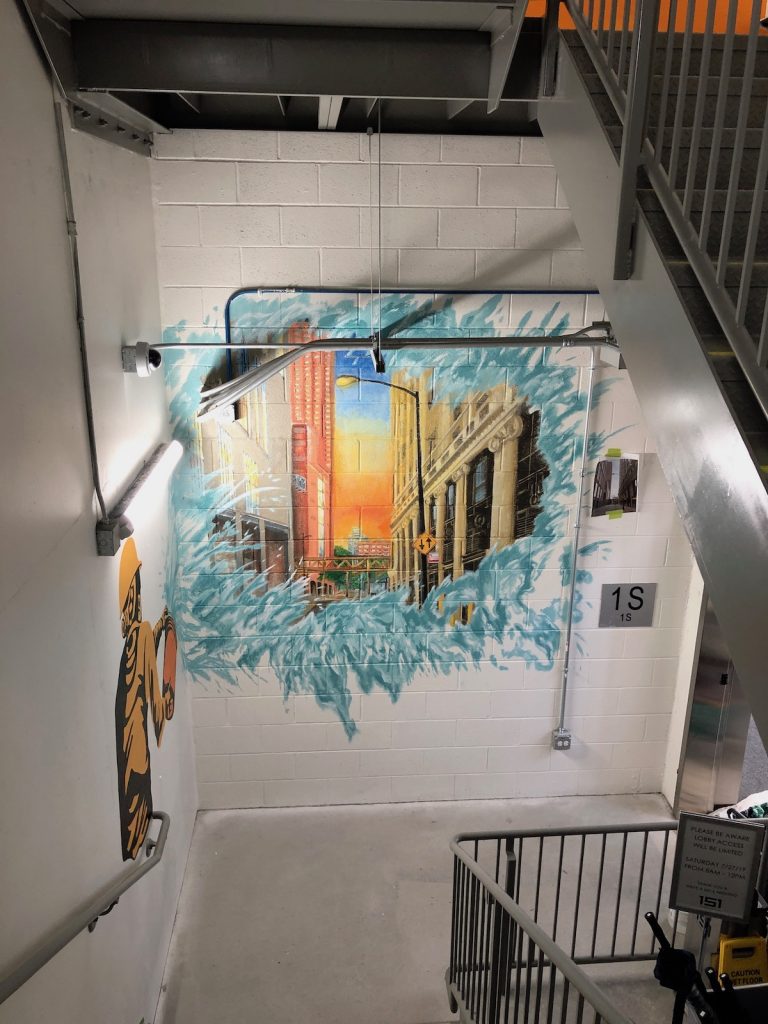 Chicago Stairwell – North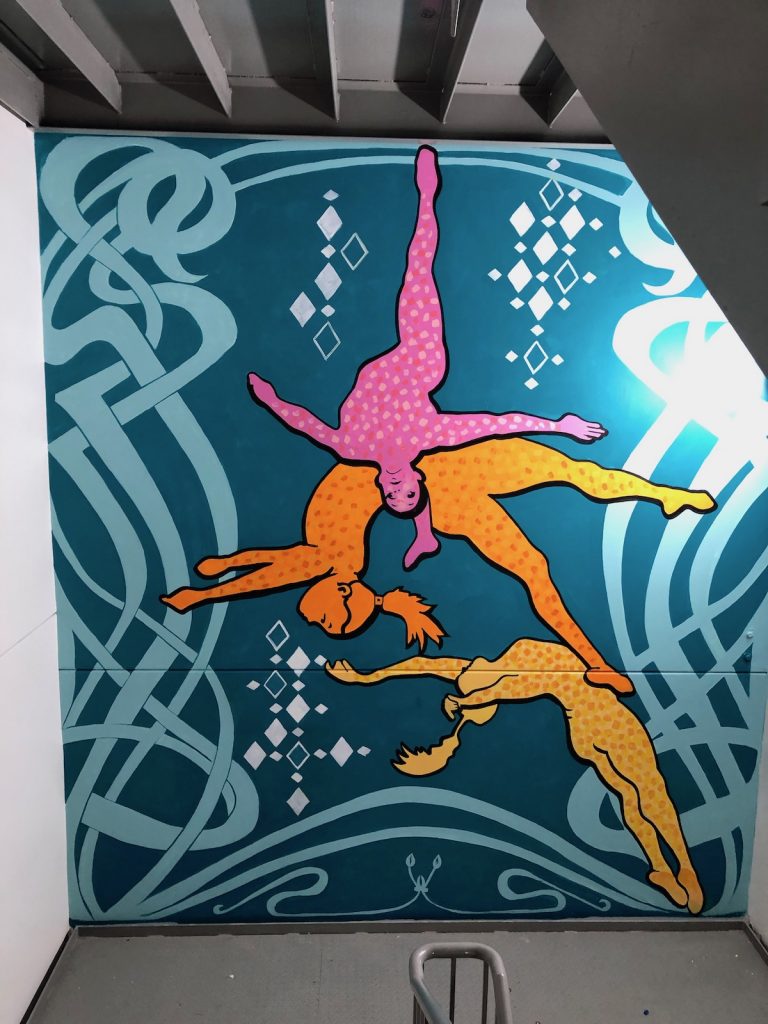 Hibbard Elementary Stairwell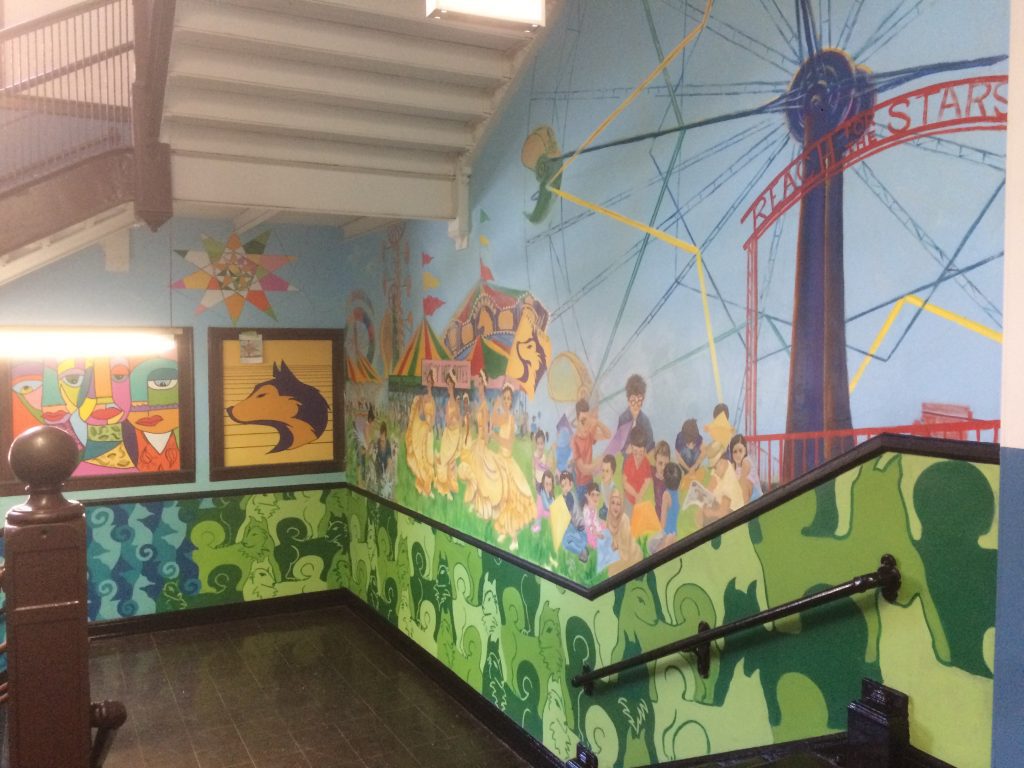 "In Service" Mural 10′ x 80′ Wallace south of Pershing – Bridgeport 8/15/18-
with the help of community volunteers and the great Linda, Lindsey, Elliana, and Ayiana!
"Homefront" Mural 10′ x 80′ Wallace south of Pershing -Bridgeport 7/29/18
"King of Peace" Mural 12′ x 80′ Damen b/w 58th & 59th West-Englewood 6/30/18 – Designed by Darrel Pulliam
"Messages" 12′ x 80′ Damen b/w 58th & 59th east -Englewood 6/15/18
"What We Create" 8′ x 32′ Installed @63rd & Honore in August 2017
"Horses Wild" a mural in 17 pieces @ Hawthorne Race Course – February 2017
"Baseball Rules" 12′ x 400′- 35th Street & Comisky Park – August 2016
"The Leather, The Wood & The Dream" 12'x 400′ -35th & Comisky Park – Sept 2016
"River's Memory" 30′ x 130′ – Main St, Rockport, IN- July 2016
"Re:Thinking" 12′ x 100′ – Ainsley & Lipps, Chicago, IL – October 2015
"After Vivaldi – Fall/Winter" 12′ x 120′ – Elston & Lamon, Chicago, IL – September 2015
"After Vivaldi-Spring/Summer" 12′ x 100′ – Elston & Lamon, Chicago, Il – Sept 2015
"Unlock Your Potential" – 6′ x 30′ – Chicago, IL 2015

"16th Precinct Garage" 8′ x 30′ – 16th Precinct, Chicago, Il – 2014
"Illinois Youth Center" mural 8'x30′ – Chicago, IL
"Bicycle Fence" mural 5′ x 20′ vinyl – Jefferson Park, IL
"Deco Hounds" 10'x80′ – Klee Plaza Breezeway – Co-design with Jax Nakasena

MURALS PAINTED BY CYD SMILLIE – LEAD ARTIST
Murals as Assistant